Geology & 3D Digitization
In 2020, a digitisation program was completed to leverage the historical mine data collected over a 95-year period to identify and prioritize high grade silver targets, as summarized within the below video. Data has been inputted from over 180,000 meters of drilling from 3,500 historic drill-holes and hundreds of detailed historic mine geology maps capturing all major faults and veins, alterations, mineralization and stratigraphy.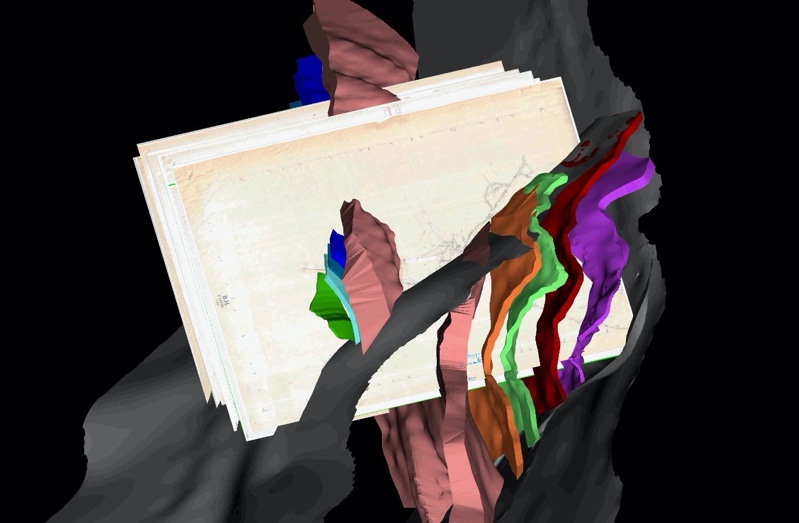 View 3D Digitization Video
Digitization and subsequent 3D modeling and analysis has enabled creation of a comprehensive fault model. This has allowed for the exploration targets envisioned by the prior generation of geologists to be reconstructed and pinpointed as well as facilitating the identification of movement vectors along structures. Crucially, this allows targeting of offset portions of veins with historic high-grade silver production, and projection of structures controlling silver-lead mineralization into preferential host rocks across offsetting structures, well outside of historically mined or explored areas.
The 3D modeling has allowed for a reconstruction of rock units and vein structures to their position prior to post-mineral fault offsets, providing a new level of interpretation on controls of mineralization, and enabling projection of vein segments offset by these faults. This in turn has informed the ongoing development exploration targets aimed at specific offsets of veins with historic high-grade silver production and target the exact host rock with the best potential for thicker vein widths.